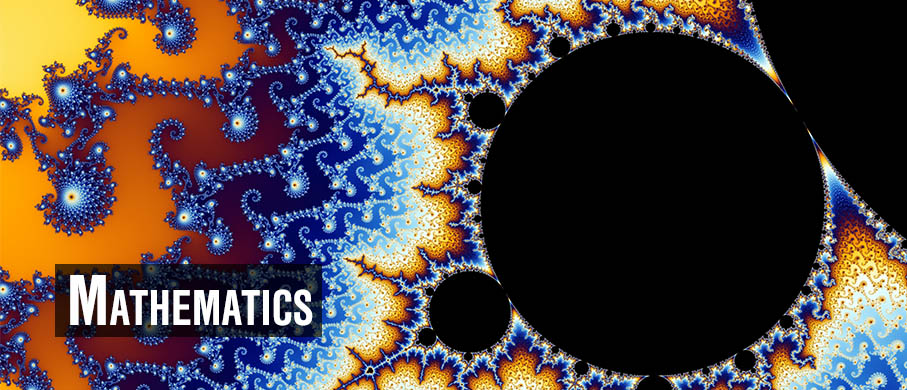 Why Mathematics? Mathematics is both a creative enterprise that has captivated the human imagination since ancient times and an indispensable tool for much of science and engineering. It provides the basic language for understanding the world and lends precision to scientific thought. From Newton's explanation of planetary motion, to Einstein's relativity, to such ubiquitous technologies as Google and mobile-phone networks, mathematics has been a key element in discovery and invention.
However, very few Bachelor of Science (Research) Programmes in India provide the sort of mathematical training and interaction with related fields that are required for leading-edge work in new technologies. Modern scientific research reveals a great deal of interconnectedness between formerly separate disciplines. This trend has been accompanied by the need for future engineers and scientists to acquire a deeper foundation in mathematics.
What does the programme offer? The mathematics programme at IISc aims to provide a first-rate foundation for pursuing research in mathematics as well as to provide essential quantitative skills to those interested in related fields. The undergraduate mathematics programme at IISc is a unique programme that aims to impart crucial mathematical expertise needed in such new areas of research and development, as well as to train future research mathematicians. IISc is uniquely suited for such a programme because of the Institute's
strengths across several disciplines, and the opportunity that the Bachelor of Science (Research) Programme provides to work directly with experts. To this programme, the Department of Mathematics brings a faculty of active researchers in all major areas of mathematics, such as Algebra, Analysis, Geometry, Probability Theory and Topology. The mathematics programme will present such advantages as studying with faculty who are well-known practitioners in their fields, many of whom interact with colleagues in related disciplines.
What after a Bachelor of Science (Research) Programme in mathematics? With the opening of many new institutions such as IITs, IISERs and Central Universities, and an increased focus on research in institutions like the NITs, there is a large demand for research mathematicians in India. Furthermore, with the maturing of the Indian industry, there is a large demand for people with strong analytical skills and a broad-based background in the mathematical sciences. Thus, the mathematics Bachelor of Science (Research) Programme at IISc will prepare a student to avail of many diverse attractive opportunities.
To know more details about the curriculum and content of the courses, click here.